June 2021 Update:
It's been a long year and we're excited to announce that we are beginning a gradual reopening to the public! We've sorely missed your friendly faces and cannot wait to get a little closer to normal. Everyone's safety is our top priority and the majority of our staff will be vaccinated by mid-June. With that said, most of our exam rooms are quite small and not well-ventilated, below are our guidelines for the first phase of reopening:
Masks are still required when inside the building regardless of your vaccination status. If you are unwilling to wear a mask, we are happy to conduct your appointment curbside.
We will continue to have you park and call in when you arrive. Our technicians will take your pet's information over the phone and then meet you at the blue tent to proceed into the building.
We're asking that you limit one human per visit inside the building so we can maintain some semblance of social distancing.
If you'd like to have more than one person present, we can do outdoor appointments for dogs in our newly fenced backyard!
An exception to this will be end-of-life appointments or in-depth discussions of medical issues – these will be conducted in our comfort room.
If your patient requires Inpatient Care, such as X-rays, fluids, etc., you may be asked to return to your car to wait until the procedure is complete.
Check-out and invoicing will happen in the exam rooms to avoid congestion in the lobby.
Tech appointments and product pickups will remain curbside for now – just give a call when you arrive.
If you or a family member has been sick within 2 weeks of your appointment, please let us know and we will conduct your appointment curbside.
If you're uncomfortable coming in, we're happy to conduct your appointment curbside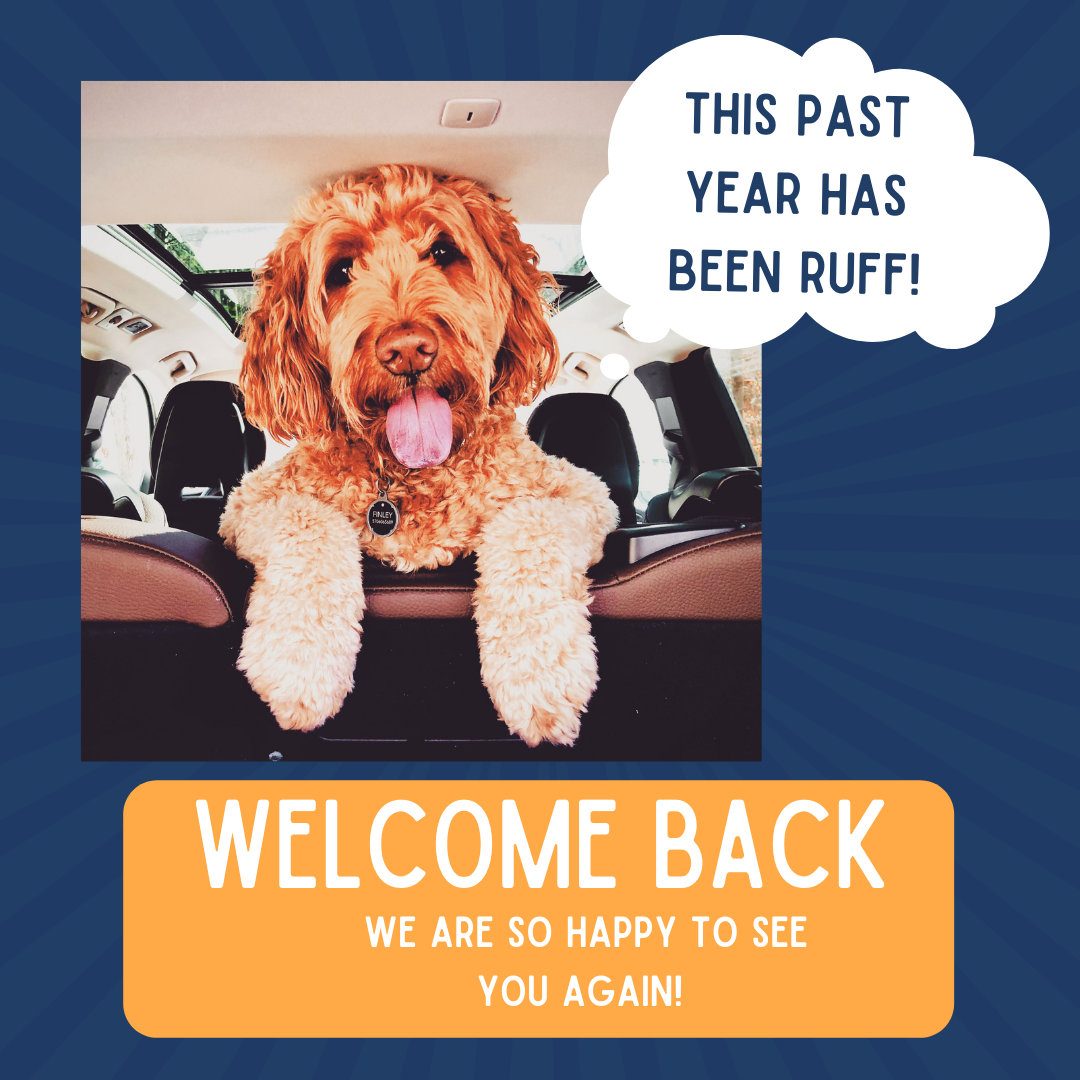 Photo Credit: Finley's lovely family
---
July 2020 Update:
We are continuing to practice curbside for the time being. We do have an outdoor exam room for patients who prefer to stay with their family, but we ask that any family members present wear a mask and maintain social distancing, when possible.
For those clients who are more comfortable with curbside service, we have established a pet exchange area in front of the building. This area is designated with a blue canopy. You can bring your pet to this area once you have spoken with the technician.
For dogs, we will place one of our leashes on your pet and ask that you remove your leash to limit contact.
For cats, we have provided a table on which you can place the carrier. The technician will wipe down the handle before taking your pet inside. Hand sanitizer is available.
Once the doctor has finished with your pet and spoken to you, your technician will meet you in the pet exchange area to get your furry friend back to you.
---
Update March 17th:
PLEASE READ AND SHARE! THIS IS IMPORTANT INFO REGARDING OUR TEMPORARY APPOINTMENT PROTOCOL.
Due to concerns about the novel coronavirus and related disease (COVID-19), We are taking additional precautionary measures within the hospital to keep our staff, doctors, animals, clients, and visitors safe, while continuing to provide essential patient care.
Effective Wednesday, March 18th at 8am, only hospital personnel will be allowed inside all areas of the hospital but we will continue to provide service.
We ask that you give us a call when you arrive and at this time you will be transferred to one of our technicians to go over any history, concerns, symptoms, or questions you have regarding your dog/cat (just as if you were in the clinic). We will then come out to your car and bring your dog/cat into the building to have their exam, vaccinations treatments/diagnostics done. We will call you right back and go over findings and recommendations. Payment can all be made over the phone or in the parking lot with our reception team. We are doing our absolute best to continue providing service but in order to do this we need to keep our team healthy and we ALL need to limit close contact with others.
If your pet experiences high levels of fear, anxiety and stress during veterinary visits, we will adjust this protocol on a case by case basis. Please let us know when scheduling if you feel adjustments are needed.
What clients should do when they arrive at the hospital with patients:
Call us when you arrive at the parking lot.
Please remain in your vehicle with your animal.

Make sure small pets (cats) are in a carrier.

Care professionals associated with your appointment will discuss your needs by phone when you arrive. At the end of the phone conversation, a care professional will come to the parking lot to bring your animal into the building for evaluation.
After the medical team evaluates your animal, you will receive a phone call to discuss recommendations and a plan moving forward. Verbal consent for treatment and details surrounding financial estimates will be authorized via this phone call. MAKE SURE YOU BRING YOUR PHONE AND A CHARGER!
After the appointment is complete and any additional findings are discussed/questions are answered you will receive a phone call from a customer service representative to obtain payment.
Credit card or Care Credit are preferred, but cash or check will also be accepted.
Your pet will then be brought back to your car along with any necessary medications or prescriptions.
For medication refills and pickups:
Please call us first to give us time to get your medication together.
Call us from your car when you arrive.
A customer service representative will take your payment either by phone or send someone out to the parking lot.
A care professional will deliver your medication to your car.
If you don't have a cell phone:
Please let a customer service specialist know this when you schedule your appointment.
We will give you alternate instructions for your pet's appointment.
Telemedicine is here!
Effective immediately, we will be suspending all Happy Visits and Comfort Conditioning sessions until further notice.
Note: we are asking any clients who are considered high risk(see below) to not visit the hospital unless it is an emergency.
High risk includes those who:
Have symptoms compatible with COVID-19 (subjective or measured fever, cough, or difficulty breathing).
Have been exposed to people with such symptoms.
Have recently traveled to a high-risk area for COVID-19 such as China, Hong Kong, Iran, Italy, Japan, Singapore, South Korea, Taiwan, or Thailand.
We are so very sorry to inconvenience anyone. This is obviously not how we like to conduct our business but our primary goal is to stay healthy, keep others around us healthy and continue to provide service throughout the duration of this pandemic and period of social distancing.
The Centers for Disease Control have a comprehensive website with general information and more about COVID-19 and animals: https://www.cdc.gov/coronavirus/2019-ncov/faq.html
---
In light of the ongoing pandemic of COVID19, we are asking you, our clients, to help everyone stay healthy!
If you are sick or could have been exposed to someone with COVID19, please cancel or reschedule your appointment. We are working hard to reduce the risk to everyone who walks through our doors by sanitizing frequently and avoiding unnecessary contact.
We are and will be continuing to do this by:
Waiving cancellation fees that are usually associated with procedures that are canceled with short notice.
Asking any staff members who feel ill or have known or suspected exposure to COVID19 to not come in to work.
We are happy to mail you any medications or flea/tick and heartworm preventives if you are ill or prefer to not come in.
Not shaking hands or having unnecessary contact with clients or other employees.
Offering outdoor appointments, if desired, or telemedicine appointments (see below).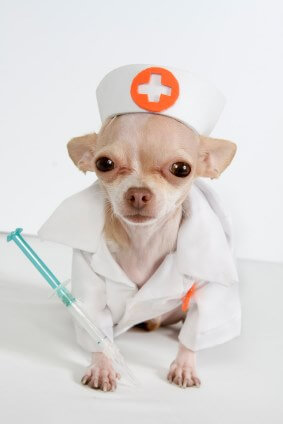 Telemedicine consults can be used for issues that may be resolved via phone or text. For more information on Medici telemedicine, check out our website: https://www.freeportvet.com/services/medici-telemedicine and enter code COTEFRE707.
As always, we strive to provide high quality, compassionate care. We need your help to stay healthy enough to do that! Please don't hesitate to call or message us with any questions related to your pet's health! Thank you so much for your help with this!
This is an interesting time we are in, stay healthy, and remember that we will do what we can to be here for your pets!