Setting up for a Lifetime of Veterinary Love
When a dog becomes fearful at the vet it is stressful for everyone. Owners hate watching their dogs suffer, the dogs are miserable and the veterinary staff has a harder time! Most dogs only come to the clinic to have things done, such as vaccines (dog shots) and blood draws, or when they are sick. Over time, the dog begins to associate the vet clinic as a place where "Bad Things Happen" and as a result, become fearful. Thankfully, this is one problem that can be prevented or fixed!
The staff at Freeport Vet does their part with Fear Free medicine. This means we take your pet's mental state into consideration and practice medicine in a way that minimizes stress to the pets as much as possible. As an owner, you can do your part by bringing your dog in for lots of Happy Visits! Even though we do our best to make your dog's preventative care and medical visits as painless and happy as possible, nothing beats a visit that is 100% fun – with no exam, vaccines or treatments at all! If we provide our dogs with as many completely fun visits as possible, their positive experiences at the clinic will outnumber the negative ones, and they will come to view the clinic as a fun place to be! We believe in the benefit of Happy Visits so strongly that we have incentivized them, for every Happy Visit you do, you will receive a $1 credit on your account! Use the Happy Visits to save up some money for veterinary care!
Who Benefits from a Happy Visit?
EVERYONE!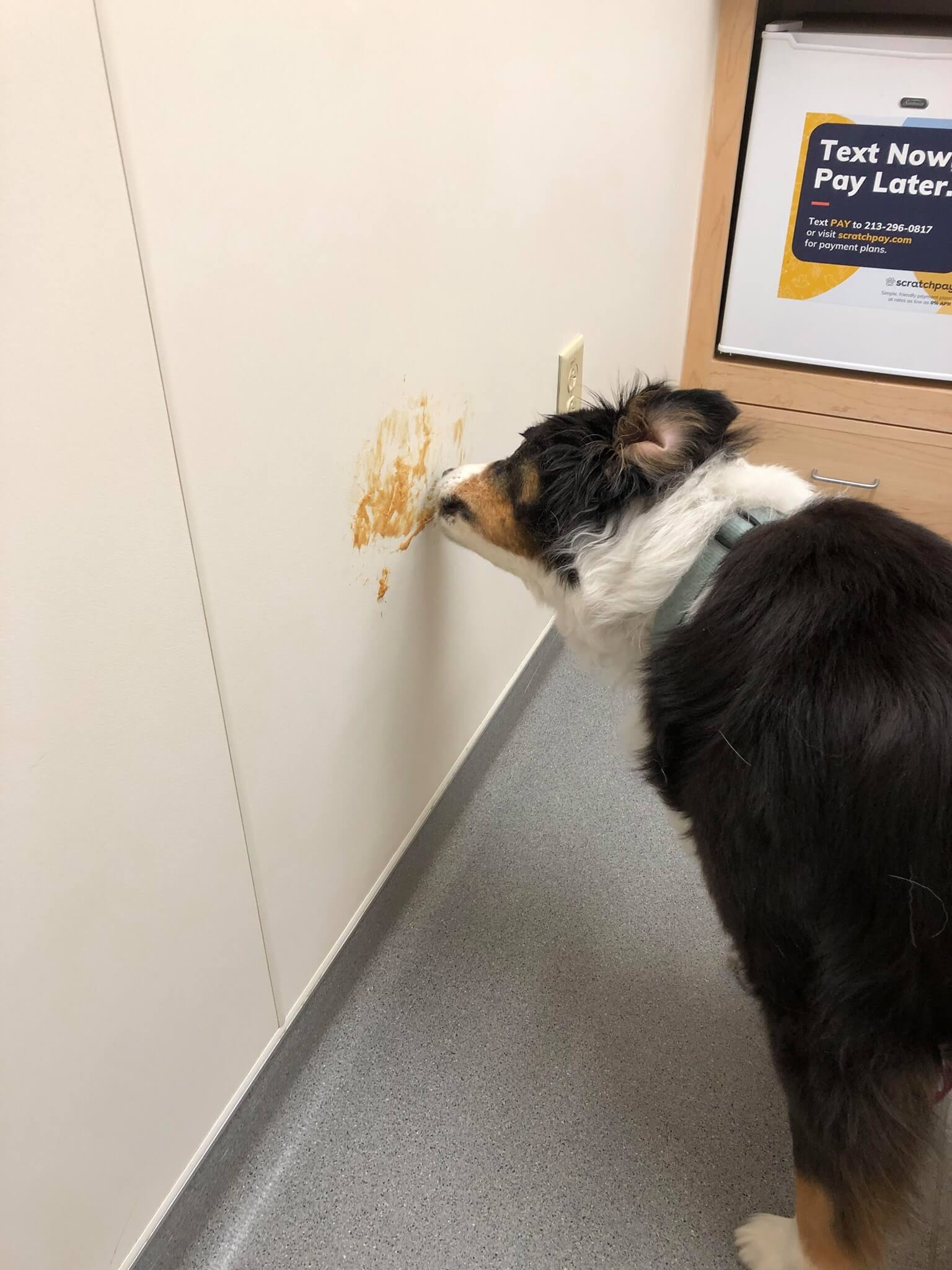 Young puppies – starting happy visits young sets your puppy up for a lifetime of happy vet visits!
Adolescent dogs who are about to be, or have just been spayed/neutered. Surgery can be a bit scary, happy visits before and/or after can prevent post-operative nervousness.
Dogs who are stressed or afraid at the vet. A series of frequent happy visits can condition a previously fearful dog to be relaxed and happy about the veterinary hospital.
Dogs who need time to warm up to people. Some dogs love every person they meet immediately, others take a little time to build trust. If your dog needs a little extra time, happy visits help them meet the staff repeatedly and make friends!
Adult dogs who AREN'T afraid of the vet! Happy visits for these dogs means they are less likely to ever become fearful if they need medical care in the future!
Happy visits are so easy to do! Simply stop by with your dog and let your dog get lots of free attention and treats! to make sure the clinic isn't too busy is a good idea, but no appointment is needed!