Preparing Your Pet For Moving
Moving can be a stressful experience for you and your family, so don't forget it can also be a stressful time for your pet. Pets can get used to a routine and what's familiar. They also sense when their family is stressed and can pick up on your feelings. Therefore, it's vital to stay in tune with your dog or cat's demeanor and behavior during your packing, moving, and unpacking process.
Planning Your Move With Your Pet In Mind
Before you pick your new house or apartment, be sure to consider your pet:
Are pets allowed in the first place?
Do you have a good place to walk your dog?
If you don't have a fenced back yard, is there a dog park nearby?
Is there appropriate space to keep your cat active?
Is there private, quiet space for litter boxes and feeding stations?
Next up, think about how you'll actually be moving. If you will be traveling either by car or airplane, there are certain things you can do to accommodate your pet. Make sure that you follow all the regulations of the airline if you're flying. Air travel, in particular, will require a health certificate from your veterinarian. Very early in your moving planning, check with your airline, your departure city/state, and your arrival city/state because there are certain regulations about the timing of exams, tests, and vaccines. A great place to start your research is the United States Department of Agriculture - Animal and Plant Health Inspection Service Pet Travel web page.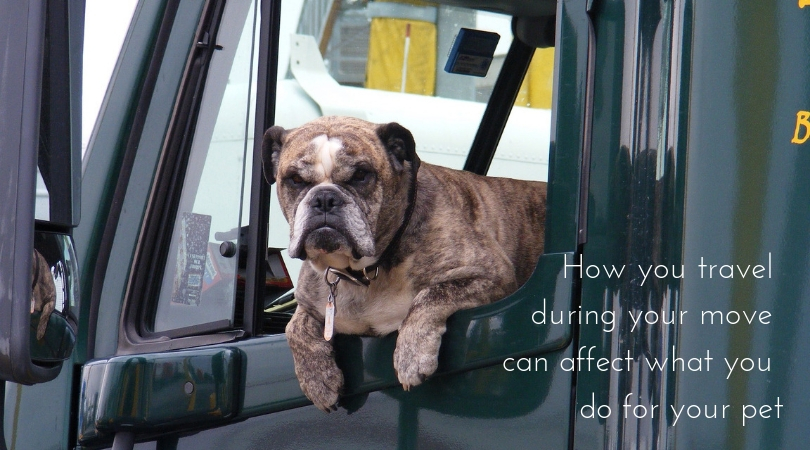 If you'll be moving outside of your current veterinarian's service area, start researching practices near your new home. You want to find a care provider before your dog or cat actually needs one. It's important to know where to find the closest pet emergency hospital, too, just in case.
Also think about any stops along the way. If you will be staying overnight, make sure your hotel is pet-friendly. Pack a travel bag for your pet with some of his or her favorite things, such as toys or bedding. You'll need to think about fresh water, your pet's normal diet, veterinary records, and any needed medications.
The best way to keep your dog or cat from feeling stressed, even in these early stages, is to spend time with them. You will also find the more planning you do the less stress there is on you.
Take Your Pet to The Vet
Your veterinarian is a good source to help you get your pet ready for moving. You will want to make sure all their shots are up to date, and as mentioned above, you'll need to fulfill any health record or certificate requirements.
Stressed pets can act in out-of-the-ordinary ways, including biting when they normally wouldn't or running away. Especially if you know that your dog or cat tends to be anxious, talk to your vet about options for calming or sedating your pet. Your veterinarian will be able to recommend the best sedation and what will be safe considering how you are traveling.
On Moving Day
Many people find boarding their pets during the days surrounding the move to be a good idea. Having movers and strange people going in and out of the house can be very intimidating to a pet. Many times pets will hide or run away in the confusion. Note that boarding kennels have requirements for vaccines, tests, and preventives, too. If you can't board your pet, keep them in a closed room away from the hectic traffic of moving.
Be sure to purchase enough of your pet's food to last through the move, plus a few weeks after you move. You don't want to be searching for food or a pet store as soon as you arrive in your new location. It is also not a good time to switch foods.
Keep a watch on your pet to make sure they don't get dehydrated. Some dogs or cats will stop eating or drinking during stressful times, and you don't want to complicate the move with a sick pet.
Spend time walking your pet and/or playing with them before the movers come. This will help with extra energy or anxiety they may have.
After the Move
Check your new home and any outside yard to make sure they are pet proof before you turn your pet loose. Spend plenty of time reassuring your pet and playing with them. Make sure they know where their new place is and that you have plenty of their familiar belongings at the new house. While a couple of new toys could be fun, you may want to resist the urge to buy a new bed for your pet until you're all settled and comfortable.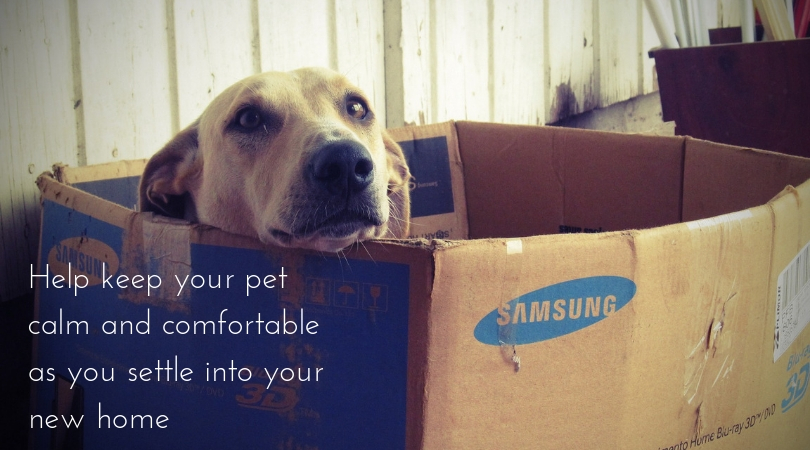 If you've moved out of your current veterinarian's service area, contact the new veterinarian that you've chosen quickly so that you can establish a good bond. This will give you a chance to speak to more than one practice, in case you aren't quite sure. Also be sure and update your dog or cat's microchip and ID tags with your new address.
Moving can potentially be a traumatic time for your pet, but these tips can help you keep your pet as healthy and as stress-free as possible during your move. We hate to hear our patients are moving, but we are glad to assist in any way we can - just contact us! Likewise, if you are new to our area and looking for a veterinarian, you have come to the right place. We will be happy to help with transferring records and do all we can to help your pet feel right at home!